Situated in the Southeast part of Jiangsu province, 
Taicang
 borders the Yangtze River in the east, Shanghai in the south and 
Suzhou
 in the west. It shares a 38-kilometer boundary with Shanghai and is 40 kilometers away from downtown Shanghai. Taicang is 35 kilometers away from Shanghai Hongqiao Transportation Hub and 72 kilometers away from Shanghai Pudong International Airport. Taicang successfully merges into Shanghai by unique geographic advantages.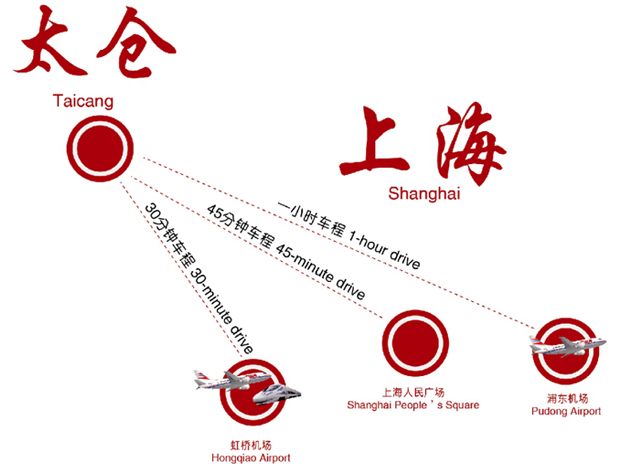 Taicang Port is among the first cross-Straits direct transportation ports. As a national first –grade port, Taicang serves as the main line port for containers in northern part of Shanghai International Shipping Center. It is the first foreign trade port built in Jiangsu province. As the nearest port to the Yangtze River estuary, it is only 13 nautical miles away from the Wusong estuary, Shanghai. Taicang Port has built 66 berths, among which 32 are with tonnage capacities of over 10,000 tons and 10 are for containers, and opened 108 domestic and international shipping lines.